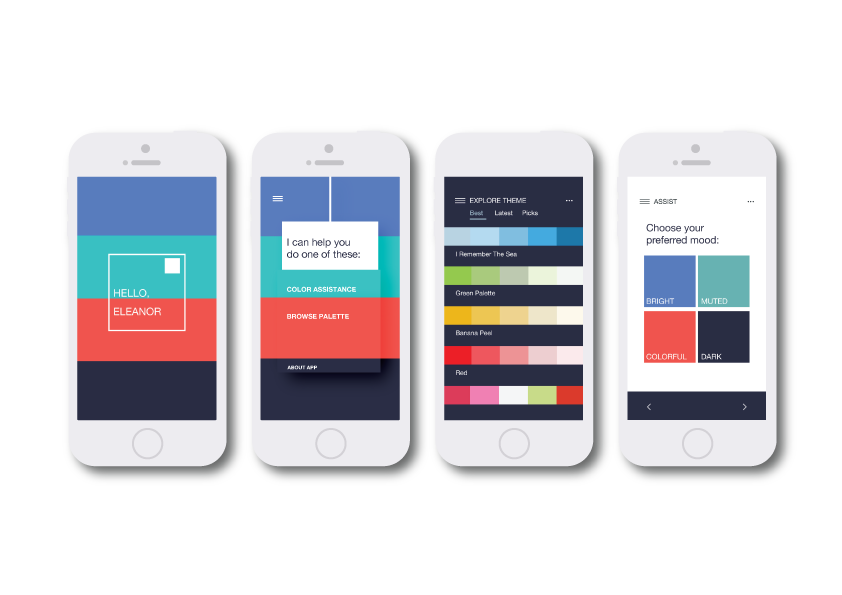 SPECTRA

is a bot,

your

bot. The concept takes on the idea of artificial intelligence bot playing the role of a graphic designer's color assistant that will help in the analytical process to understand a color scheme and/or giving color recommendations based on the mood and feel that you are looking for. In today's era, we want things to be faster than before and we demand ideas and inspiration just as quick as we lose them; SPECTRA aims to be the virtual assistant without completely replacing the importance of human judgement in graphics design.
This project aims to take us back to the old age question of, "Why this color?" , introducing us to the existence and study of color psychology. The study of color and psychology have been known to affect each other, especially for advertorial and marketing purposes; it has been a mystery that surrounds the gray area. As such, the concept of this app was birthed by the designer's thought of Whys and Hows of color and the desire to see how designers choose certain colors for themselves.

01. ASSIST

 — the main feature of SPECTRA is her ability to assist you in analyzing a color scheme based on the database that she owns. You can analyze an existing color palette or use this feature and let SPECTRA come up with several color themes for you to choose from.
02. ANALYSE 

—  the second main feature of SPECTRA is her ability to analyse color themes that you have chosen. It can be a color palette that you create or one that you found from browsing the

EXPLORE

section. The

ANALYSE

feature gives you a thorough explanation of each color and how a color palette wishes to embody itself (e.g. this palette carries a muted theme, consists of pale and muted colors that may be associated with tranquility and moody atmosphere)
03. EXPLORE 

— don't feel like using SPECTRA's "brain"? That's okay. The app itself allows you to browse through color palettes that have been uploaded and submitted by other users. Think of Kule and think of Kuler working together with SPECTRA and that's basically what you get in this page.
04. GENERATE 

— we don't call her an artificial intelligence for nothing: SPECTRA allows you to upload an image from your media library and use your selected image to create a color palette which, of course, you can analyze later too.
05. LIBRARY

 — this is where users get to control their settings. There are two display modes in the app: Daylight & Night view. In DAYLIGHT mode, users browse color palettes on a white background while NIGHT mode allows users to browse them on a dark background.
Keywords
— color psychology, experimental, artificial intelligence 
Designed for iPhone 6, beta tested using Marvel App.
this is a nonprofit project done for my 2016 Interactive Digital Media thesis.  
https://marvelapp.com/hih6a0